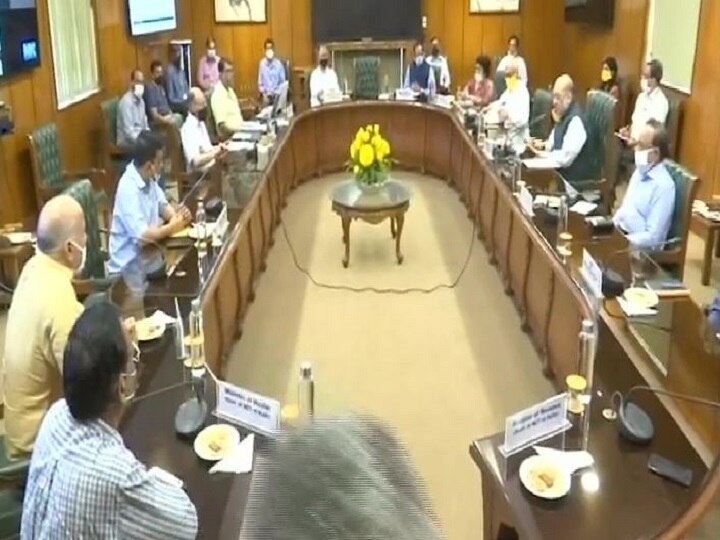 प्रधानमंत्री द्वारा ली गई उच्चस्तरीय बैठक के बाद गृह मंत्री दिल्ली में कोरोना की रोकथाम के लिए चर्चा कर रहे हैं.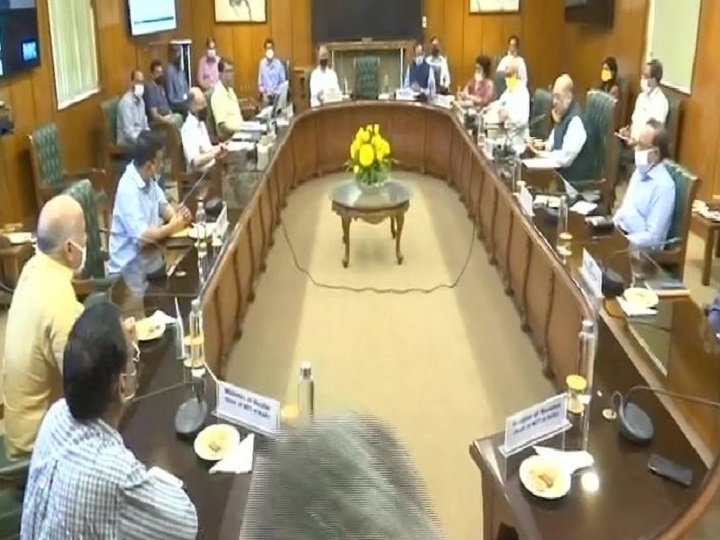 नई दिल्ली: केंद्रीय गृह मंत्री अमित शाह और स्वास्थ्य मंत्री डॉ. हर्षवर्धन की दिल्ली के उपराज्यपाल अनिल बैजल, मुख्यमंत्री अरविंद केजरीवाल और राज्य आपदा प्रबंधन प्राधिकरण के सदस्यों के साथ दिल्ली में कोरोना की स्थिति को लेकर बैठक चल रही है. बैठक सुबह 11 बजे से गृह मंत्रालय में शुरू हुई है.
गृह मंत्रालय के मुताबिक, इस मीटिंग में दिल्ली में कोरोना संकट की स्थिति का जायजा लिया जा रहा है. देश की राजधानी में कोरोना वायरस ने भयानक रफ्तार पकड़ ली है. शुक्रवार को नए केसेज की संख्या ने पुराने सारे रिकॉर्ड्स तोड़ दिए. आधिकारिक आंकड़ों के मुताबिक, शुक्रवार को दिल्‍ली में 2,137 लोग पॉजिटिव टेस्‍ट हुए. इसी के साथ, दिल्‍ली में कोविड-19 के मरीजों की संख्‍या 36,824 हो चुकी है.
Delhi: Union Home Minister Amit Shah and Health Minister Dr Harsh Vardhan hold a meeting with Delhi LG Anil Baijal & CM Arvind Kejriwal along with members of State Disaster Management Authority to review the situation in the capital regarding #COVID19. pic.twitter.com/ooIv2n2cYO


— ANI (@ANI) June 14, 2020
दिल्ली में हॉटस्पॉट्स की संख्या बढ़कर 222 हुई
दिल्ली में लगातार बढ़ते कोरोना संक्रमण के कारण यहां कोरोना हॉटस्पॉट्स की संख्या भी बढ़ती जा रही है. दिल्ली में हॉटस्पॉट्स की संख्या बढ़कर 222 हो चुकी है. दिल्ली सरकार के मुताबिक, 19,535 कोरोना रोगियों को उनके घरों में ही आइसोलेशन में रहने को कहा गया है.
प्रधानमंत्री नरेंद्र मोदी ने की थी समीक्षा बैठक
प्रधानमंत्री नरेंद्र मोदी ने कोरोना वायरस की रोकथाम और उसके बचाव को लेकर शनिवार को प्रधानमंत्री आवास पर एक महत्वपूर्ण समीक्षा बैठक की थी. बैठक में गृह मंत्री अमित शाह, स्वास्थ्य मंत्री डॉ. हर्षवर्धन, कैबिनेट सचिव राजीव गौबा, मेडिकल इमरजेंसी के लिए बनाई गई एंपावर्ड कमेटी के चेयरमैन डॉक्टर वी. पाल और आईसीएमआर के डीजी भी मौजूद रहे. प्रधानमंत्री द्वारा ली गई उच्चस्तरीय बैठक के बाद अब गृह मंत्री दिल्ली में कोरोना की रोकथाम के लिए चर्चा कर रहे हैं.